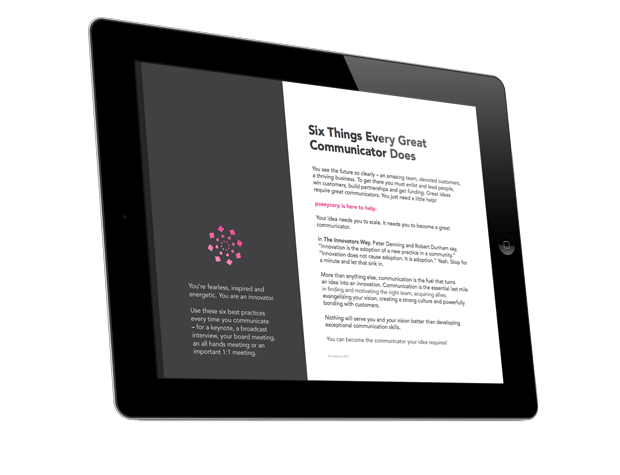 Six Things Every Great Communicator Does
The first time I had to do a TV interview I almost threw up.
For years I had been pushing my clients onto TV sets and keynote stages. I never knew how hard it was until I had to do it myself!
You may be fearless about pursuing your vision, but when it comes to delivering a keynote speech or masterfully driving your board meeting you might need a little help. Everybody does.
Subscribe to poseycorp's newsletter and you'll receive Six Things Every Great Communicator Does, a practical guide to help you start wherever you are. You can download the PDF, audio or video – or all of the above! Then, on the second and fourth Tuesdays of every month, you'll get a useful newsletter. Because nothing will serve you and your vision better than developing exceptional communication skills.
You can change your subscription preferences whenever you'd like by clicking the "Update" link at the bottom of any of our emails, or unsubscribe from any mailings at any time. Learn more about our privacy policy here.
"I'm so glad I signed up for your newsletter! Besides your gripping writing, your advice is already very helpful. Tonight I will use your Two Sentence E-Mail piece to help me solve a problem. You've empowered me to work through my insecurities in a clear, pragmatic way. Thank you. Can't wait to see the results!"
Caroline Sofiatti, Head of Data Science at Noon Home